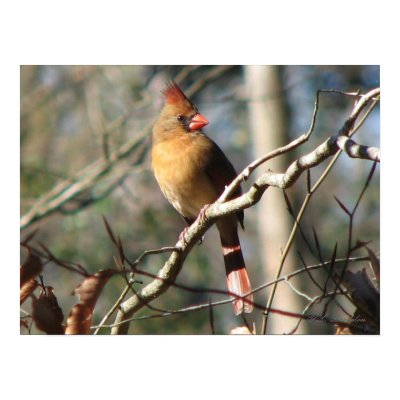 As we look out on an unseasonably cold winter day and see over one hundred American Goldfinches, two to three dozen Northern Cardinals and an assortment of Chipping Sparrows, White-throated Sparrows, Carolina Chickadees and Tufted Titmice (to name a few), we revel at the beauty which they provide in our dull, drab winter yard. We also remember how scarce the birds were when we first bought our little piece of heaven. What has changed in the last 14 years that so drastically increased the number of birds, even after extreme natural disasters like Hurricane Katrina? The answer to this mystery is that we plant for the birds. We also feed them and provide water and nesting sites, but I think that planting native and old-fashioned, non-invasive flowering and fruiting plants really makes a difference. Anyone can do this, whether they live in a second story apartment or on acres in the country. Planting some nectar rich flowering or fruit bearing plants will bring birds to your doorstep. There are many benefits of gardening for birds. First, it's helps the birds and other wildlife. And there's also the enjoyment of seeing lovely creatures on a daily basis that lifts your spirits and relaxes your mind. Lastly, it's good for the environment and for you. Fruit trees and shrubs are not just for the birds. Humans can also enjoy and benefit from home grown produce.
There are a few Squidoo lensmasters who write about birds and we are one of them, but our meager collection of lenses pales in comparison to the Bird Lady of Squidoo,
Elizabeth Jean Allen
. If you are interested in learning more about a particular kind of bird, then check out her lenses because you'll surely find one there. One of our favorites is
Create a Backyard Bird Sanctuary
which explains how to turn you backyard into a haven for birds.
Other good places to learn about welcoming birds into your yard are:
National Wildlife Federation Backyard Habitats
Audubon at Home
Backyard Wildlife Habitat Info
We hope that you'll start creating your own bird sanctuary as soon as the soil can be worked this winter. Happy Gardening and Happy Birding.