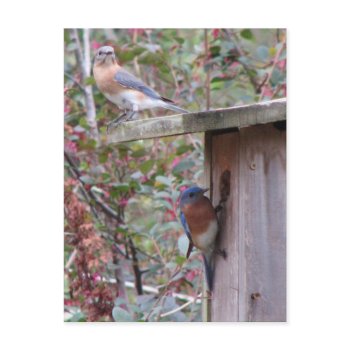 A picture can tell a thousand words so we are changing the focus of this blog to more of a photo journal of the seasons. In the coming months we will feature some of our work as well as the work of other Naturally Native Squids and Zazzlers.
February in south Louisiana usually means early spring. While the rest of the country is experiencing late winter, we look forward to pairs of Carolina Chickadees,
Eastern Bluebirds
and Wood Ducks checking out the many nest boxes along the nest box trail that we have erected throughout our property. Pairs start scouting in late January and some have been known to start laying eggs in February.
Bluebird Pair Postcard
by
naturegirl7
on left
Flowers like Taiwan Cherry tree, Plum Delight shrub (seen behind bluebird pair photo above), native Red Maple, Daffodils, Narcissus, Violas (Pansies) and Camellias are blooming all around the yard. These trees and shrubs are used by wintering hummingbirds and the Violas and bulbs provide nectar for butterflies and bees.
mgbphoto
is a Senior and Naturally Native Squid, as well as a fellow Zazzler. She takes lovely photos of lighthouses and also natural subjects. I love this one of a herd of deer in a northern winter. Snow is not a sight that we see often in the south, so we must enjoy it through lovely pictures like the one below.
If you like nature and nature photography, you'll probably enjoy
Nature at Its Best
.